Libra Daily Horoscopes!
By noted Astrologer Michael Thiessen
Share with friends on facebook? Click Here!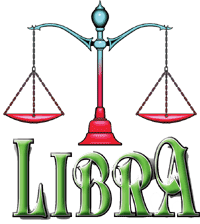 Diplomaitic and urbane
Romantic and charming
Easygoing and sociable
Idealistic and peaceable

Libra Daily Horoscope for Thursday
11/27/2014
---
LIBRA
(Sept. 24 -Oct. 23)
You should regain some of your self esteem if you get involved in organizational functions. Don't overspend on entertainment, on children, or make poor investments. You will have excellent ideas and you should be able to help your partner get ahead.
---
Want to see all the horoscopes on one page, like we used to do?
Simply click here for the classic view!
Need horoscope content for your web site or publication?
Click here for horoscope content!
---
---



Click for Monthly Horoscope
Some insight for the month ahead! New! by popular demand!
---


Copyright Notice
These horoscopes are the exclusive property of Astrology Online and may not be used by any one other than for viewing purposes on this site without the express, written permission of owner. All infringements of this copyright will be pursued to the limits of the law.