Horoscopes at Astrology Insight
| Home | daily horoscopes classic view | Weekly Horoscopes | Monthly Horoscopes |


Virgo Daily Horoscopes!
By noted Astrologer Michael Thiessen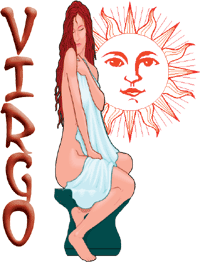 Modest and shy
Meticulous and reliable
Practical and diligent
Intelligent and analytical

Virgo Daily Horoscope for Monday
05/25/2015
---
VIRGO
(Aug. 23 -Sept. 23)
Try not to use emotional blackmail; it will only make matters worse. You may feel a need to make changes to your legal documents. Be sure to take care of the needs of your immediate loved ones first.
---
Want to see all the horoscopes on one page, like we used to do?
Simply click here for the classic view!
Need horoscope content for your web site or publication?
Click here for horoscope content!
---
---



Click for Monthly Horoscope
Some insight for the month ahead! New! by popular demand!
---


Copyright Notice
These horoscopes are the exclusive property of Astrology Online and may not be used by any one other than for viewing purposes on this site without the express, written permission of owner. All infringements of this copyright will be pursued to the limits of the law.

---
These horoscopes are cast as an "in general" type. They may not apply at all to some because many other factors may be involved (cusps, ruling houses etc.). I hope you gain some insight from this and found it entertaining as well as useful.
---


Starlight Astrology!
---
| Main Area | Sign Explanations | Weekly Horoscopes | Daily Horoscopes | daily horoscopes classic view | Monthly Horoscopes | Main Compatibility Area | | Age of Aquarius? | Dream Central |
---
All horoscopes are the sole property of Michael Thiessen Enterprises

Designed and maintained by Michael Thiessen